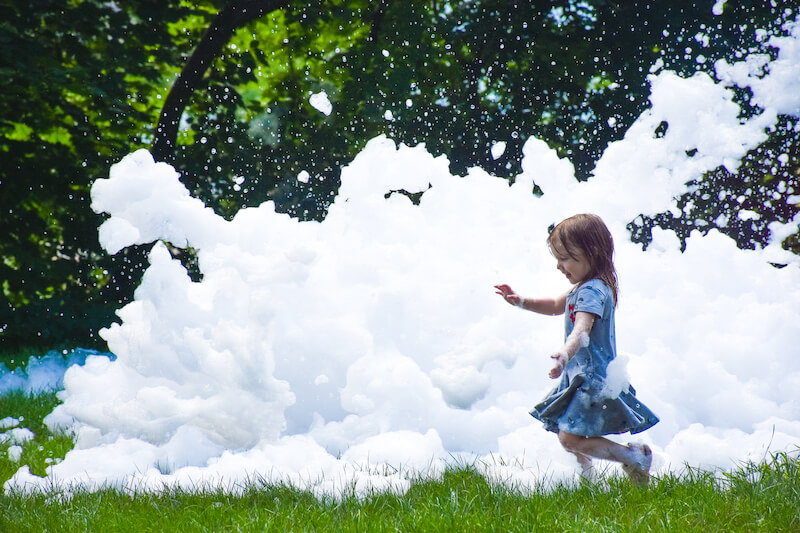 You want to throw a fun party for your kids,
but you don't know where to start.
New Hampshire's newest interactive experience – foam and bubble parties! With our professional foam equipment, we create high-quality, micro-foam that will have kids and adults laughing and playing like never before. Combine this with fun family-friendly music and you have an immersive experience like no other!
Foam makes people happy; we've tested it.
Foam parties are the way to go if you're looking for a fun event your attendees will never forget! Our professional team will operate our foam cannon, play music, facilitate fun and handle clean up for a stress-free event for you. Don't just take our word on how much of a blast they are – we've tested it! 
Fun for all Ages
From your youngest guest all the way up to Grandma! Everyone loves to play in our gentle piles of bubbles!
Soapy Fun
Everyone will literally be covered in soap (and we all know soap is good for keeping things clean.)
Easy Clean Up
Our foam will disappear on its own!
Just. Like. MAGIC!
"Sages was FANTASTIC for my daughter's birthday party! We did the foam party and the kiddos LOVED it. Sages took care of everything including the music playlist. My daughter hasn't stopped talking about it, and our lawn finally got some much needed watering!"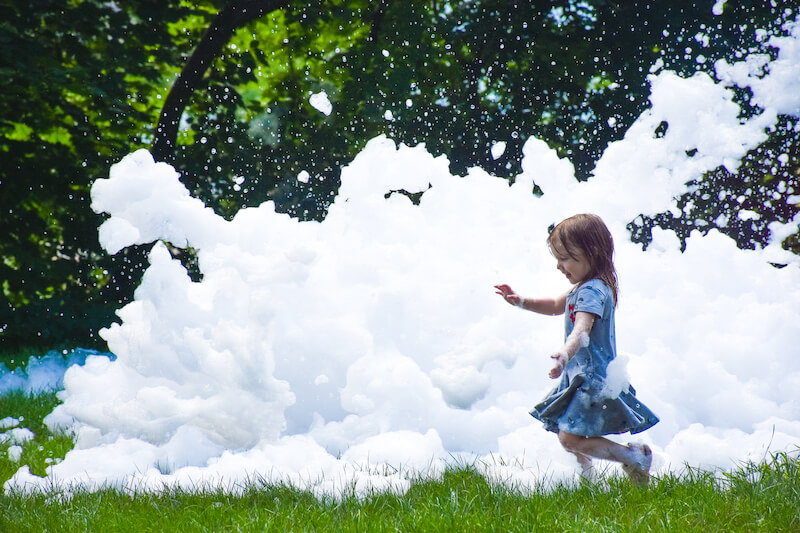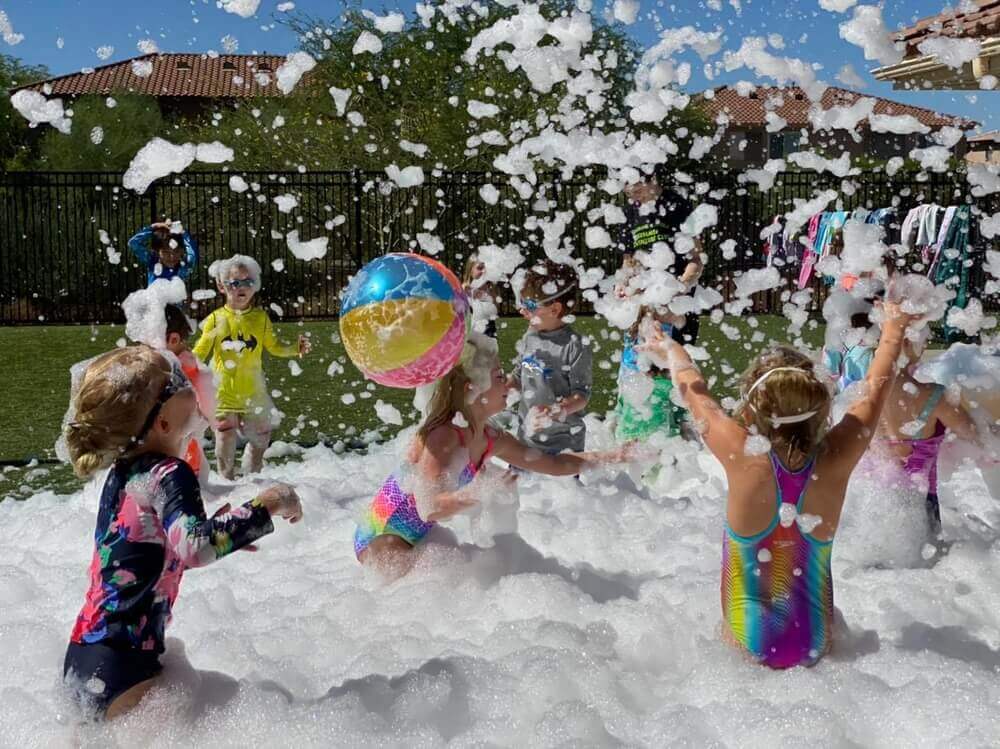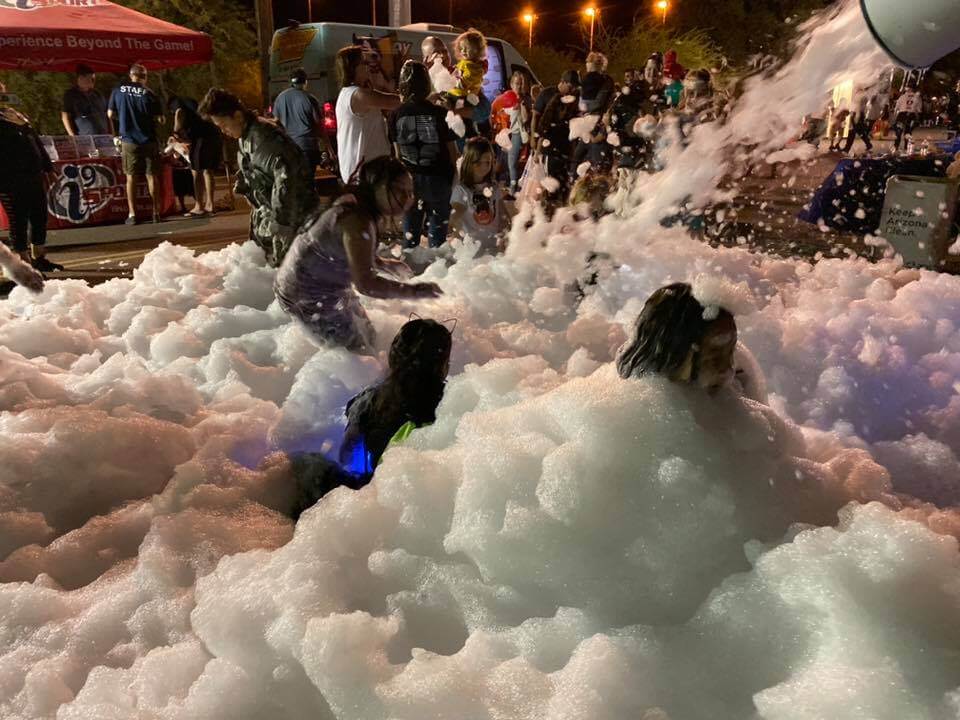 Foam is Perfect for Your Event
Whether you're throwing a small neighborhood get-together or a massive community event, foam is the perfect addition to amp up the excitement. Our foam plays BIG and is perfect for all ages, so everyone can join in on the fun. Fairs, festivals, family reunions, graduations, malls, shopping centers, church events, and school parties, our unique foam experience is guaranteed to wow your guests and leave them wanting more. 
KIDS LOVE FOAM; it's a fact.
They'll be bouncing with excitement all day and talking about it for weeks. And imagine the photo opportunities! Smiling faces, colorful foam, and unforgettable memories. With our 2-hour package, you can bring small groups together while still practicing social distancing – it's the perfect way to have some safe and exciting fun.
Get ready to blow your campers' minds with the ultimate foam extravaganza! When they see the gigantic pile of foam waiting for them, they'll go bananas with excitement. It's the kind of experience they'll never forget – they'll be begging for more and never want to leave! From wild foam fights to creative foam sculptures, there's no end to the fun they'll have. So get ready to unleash the foam and make your camp the talk of the town!
Whether you're throwing a birthday bash, a graduation party, a family get-together, or just feel like having some fun, foam is the way to go! Our foam experience is perfect for all occasions and is guaranteed to bring good, clean FUN for everyone involved. With Sages Entertainment, you can trust that your event will be unforgettable and jam-packed with excitement. So why settle for an average celebration when you can elevate it to the next level with our epic foam experience?
Packages and Pricing for
Personal Parties
Great for reunions, church functions, company picnics, and small neighborhood block parties. Our two-hour foam party is the best value package. 
An awe-inspiring addition to your  celebration, birthday party, or event features family-friendly music, an hour of foam, and TONS of fun.
A great option for field days at your school or summer camp's celebration day. Give your event a memorable kick with one of our foam experiences, music, great photo ops, and OODLES of fun!
*Starting prices. Also, a Travel Fee may be applied over 45 minutes from Portsmouth NH
An awe-inspiring addition to your celebration, birthday party, or event features family-friendly music, an hour of foam, and TONS of fun.
*Starting prices. Also, a Travel Fee may be applied over 45 minutes from Portsmouth NH
Hosting a large event?
Reach out for a quote!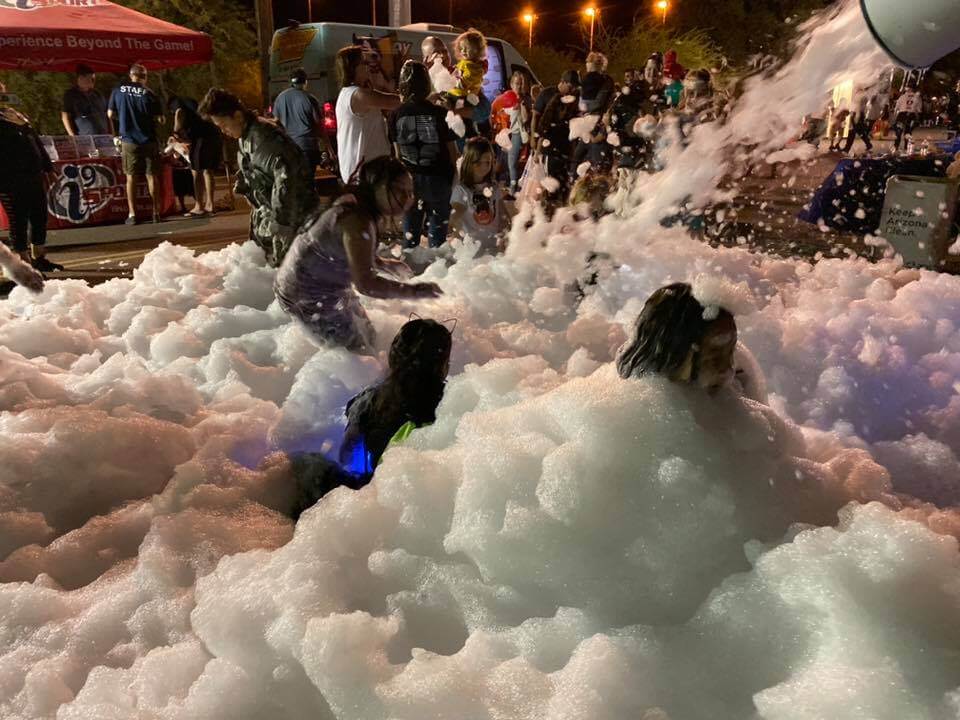 Fr
equently Asked Questions
What is a Foam Party?
We bring our professional Foam Cannon and can blast out enough foam to cover an area 50′ x 50′ and up to 5 feet deep! While you and your guests have fun in our foam, we play family-friendly music, and toss in a few beach balls to keep the atmosphere fun and entertaining! 
Where do you travel?
Sages Entertainment travels all around New Hampshire, Maine, Vermont, and Massachusetts with our entertainment and foam parties. Depending on your distance from our home on the New Hampshire Seacoast we may need to add a travel fee. Reach out to us for a quote! 
How long is a Foam Party?
We can provide many lengths of parties.  The length really depends on what type of party or event you're having. For a birthday party one hour is typical. For fairs, festivals, summer camps, preschools, daycares, school parties, college/university parties, corporate events or other community events, we can be there as long as you need.
There are certain discounts we can offer when you book us for longer than an hour.
Reach out to us today, let us know your needs, and we'll come up with a great custom foam party solution to fit!
What do we need to provide you?
All we need from you is an outside water source to connect our hose to, an outside electrical outlet, and space for us to fill with foam. Our connections are 50 feet long so please keep that in mind.
Many different types of surfaces work well;  a grassy yard, a driveway, parking lot, asphalt, and even some indoor spaces work great for foam parties! If there is dirt or dry grass the party will get muddy.
It is recommended that your guests have their bathing suits and some sort of shoes / protection on their feet. When you play in the foam, you will get damp or soaked. So, don't forget your towel (and perhaps a change of clothes!) 
What are your prices?
All of our prices are custom to your party or event's needs. 
There may even be a travel fee, depending on how far you are from our home on the New Hampshire Seacoast.
But you will get a HUGE bang for your buck! Our foam parties play BIG!
The best thing to do is to reach out to us, tell us your needs, and we'll give you a free quote.
Is your foam friendly?
Our foam solution is biodegradable, unscented, non-toxic, and hypoallergenic. 
Are foam events just for the kids?
No way! Foam is for anyone and everyone that wants to have some bubble fun! Our foam parties are great for all ages; kids, families, adults, you name it!
Who's gonna clean up all this foam?
Clean-up can come in a few different ways. We can hose down the area with water and all the foam will be gone within minutes or we can leave the foam and it will vanish all on its own.
Let us know if you want us to leave it or spray it down.
How do we book you?
It's easy. Fill out the form on this page and we will be in touch. If you have any questions email us at [email protected] or call Wayne at (603) 828-7873.